WELCOME, BABE! FILL OUT THIS FORM TO SCHEDULE YOUR PHONE CONSULTATION WITH ONE OF OUR TEAM MEMBERS!
Why choose us?
RJS is staffed by an all-female team. We pride ourselves in understanding and taking great care in our clients precious self image. Many of our babes come to us feeling like they aren't good enough, pretty enough, thin enough, curvy enough, etc. Each one of them comes into our studio with their own unique set of insecurities. But they all have one thing in common- they want to experience the most confident version of themselves.
All we ask is that you get through the doors, no matter how nervous you are (that is totally normal!) and leave the confidence part up to us. We promise you'll leave your session feeling like a whole new woman. Dare to do brave things, girlfriend. It will pay off.
Rachel J. Kline is an award-winning photographer who has dedicated her life to empowering women with her self-proclaimed super power: the ability to show a woman her beauty on the inside and the outside. You're in great hands with our team of artists as the leading boudoir photography studio in the Berks County and surrounding areas. As a top rated boudoir studio on The Knot and Google, we will give you an experience that will stay with you for the rest of your life.
The boudoir experience
Boudoir photography is changing women's lives across the nation. As a dedicated boudoir studio, our sole mission is to empower as many women as we can with this incredible luxury experience. We focus on the emotional success of our clients every step of the way. With several in person meetings with our team during your time with us, you'll be given the red carpet treatment like the total babe you are. You can expect to be fully prepared for your session with our expert styling tips, prep guides, and a pre-session consultation to get all of your questions answered and meet some of the team prior to you big day.
You'll see your photos in one hour. We'll send you off to lunch and during that time we'll be prepping for your Image Reveal. This is where we'll show you your gorgeous gallery of boudoir photos and help you select a collection of our products and art pieces as keepsakes from your time with us. We've partnered with the most high end print labs to ensure our clients get nothing but the best in luxury art pieces. Trust me, you're going to gush over our imported albums and wall art choices.
Want to learn more?
Your journey to Self Love all starts with a little ol' email! Reach out, babe!! We'd love to get you more info on scheduling your very sexy, luxury boudoir experience.
Fill out this contact form to learn more about what to expect in your time with us, frequently asked questions, and our full pricing menu.
This experience was so amazing!
Rachel and her team are so down to earth; they make you instantly feel at ease! All women should see themselves like this. When I saw my pictures, I couldn't believe that it was me! You seriously cannot put a price on the confidence you feel after becoming a boudie babe!! It may begin as a gift for your significant other, but it turns out being a gift for yourself. You deserve it!! - Alaina, Reading PA
Even when your shoot is over, we hope that you'll join the ranks of the RJS Boudie Crew in our private facebook group. With nearly 11,000 women in there, we've cultivated a community where we lift one another up and give women a safe place to tell their stories and inspire each other everyday.
We're located in downtown Reading on 5th and Penn. Fitted on the 3rd floor of a gorgeous historic building, we've created a studio that looks like a Pinterest fantasy. You'll get to work with an award winning boudoir photographer, our exclusive in-house hair and makeup artist, a studio manager who is the smartest woman on earth, and our team of assistants and photo retoucher.
We are just a bunch of babes, empowering women and having the BEST time doing it!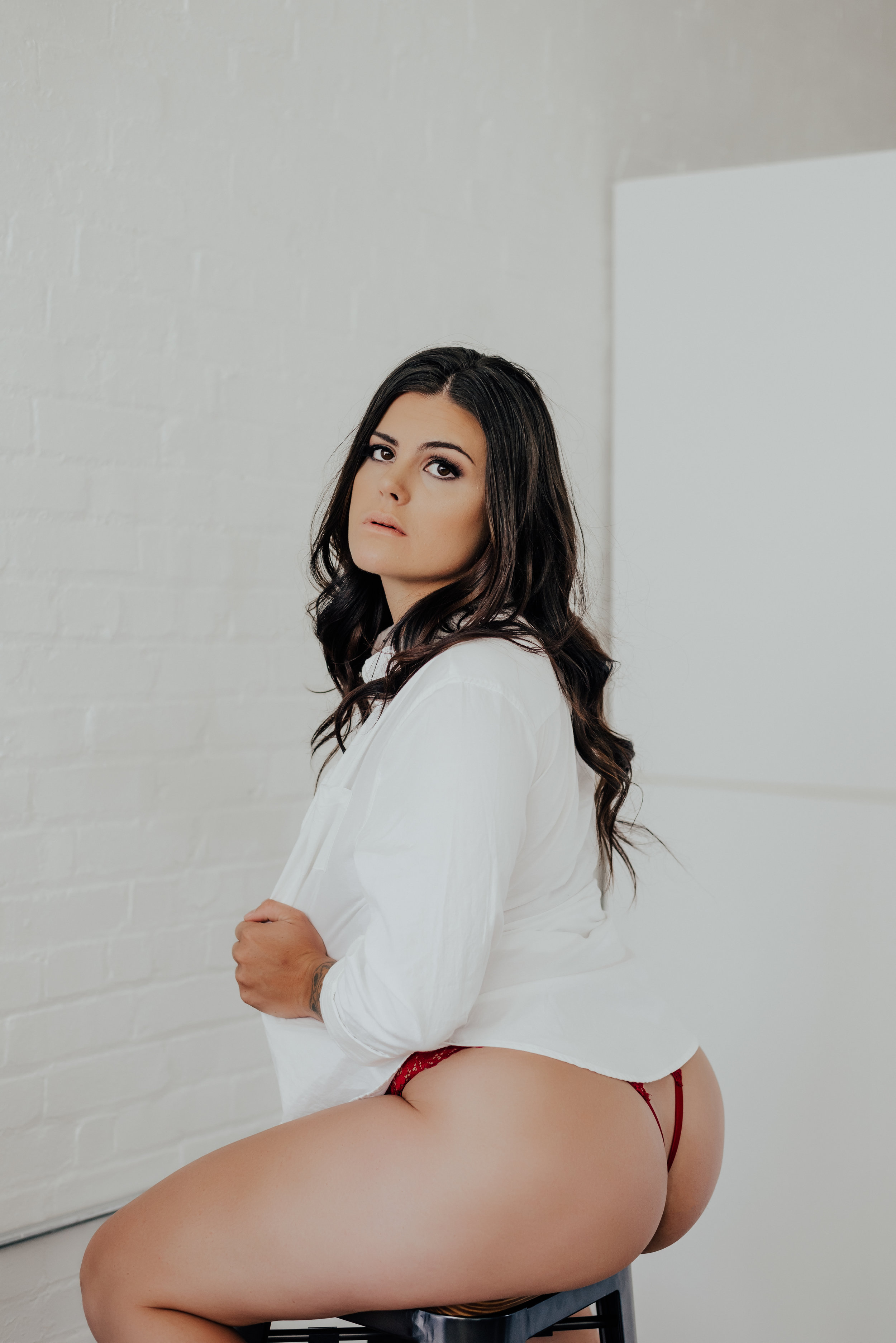 I see you're still scrolling…
Trust me. We get it. We've heard from clients that it's taken them A WHILE to finally reach out. Taking that first step is a BIG deal. For many ladies there is a lot of self doubt wracking their brains while perusing our website. "I could never look like these women" is a common thought. Nearly of the women on our website thought the same thing before booking- and look at them now!
Lemme take a moment to break it down to take away some of the uncertainty before you email us!
Step One: This is that email I keep talking about. This is the start of it all. This is where to tell you inner critic to be quiet and take a chance on yourself.
Step Two: It's Boudie Day! After a few months of prepping with all of our guides and expert opinion, you'll be fully prepared to have the sexiest day ever. You're going to leave your session feeling like Beyonce. Pinky promise.
Step Three: Order. Approximately one hour after your session you'll come back for your Image Reveal appointment. We'll send you out for a bite to eat and when you return, we'll be fully prepped for you to see your gorgeous images! This is when you'll purchase your art collection and I will help you fill an album with all of the bangin' images from your session! Our clients often say this is their favorite part of the whole experience when they finally get to see their steamy image gallery!
Step Four: Enjoy the confidence you've gained to last a lifetime. Look at your album and metal wall art to remember how amazing you are. So that even on your very worst days, the woman that you see in your RJS art pieces can remind you of how brave and strong you are.
The RJS team is an absolutely amazing group of talented ladies!!
They will make all your boudoir dreams come true!! Honestly I walked into Rachel's studio nervous, anxious, unsure and with a deflated confidence just trying to do something nice for my soon to be hubby. Within 3 and a half hours I walked out of there feeling like an entirely new woman! - Danielle, Reading PA
Are you ready to do this?!
Let's first complete Step One.
Hi, I'm Rachel…
True coffee addict. Fem-preneur. Photographer. Film maker. Mommy to 2 boys. Wifey to an incredible man.
I am the chick behind the lens. Empowering women to love themselves is kinda my thing. Boudoir changed my life, and I am on a mission to show women how this experience can have the most profound impact on their self image. How we perceive ourselves shapes SO much of our experience out in the world. So, my days are spent with ladies in their underwear and it is the BEST!