Philadelphia Boudoir: Weight Loss + Body Positivity
Okay babes, I know I don't get super personal on social media. So I wanted to take an opportunity to discuss an aspect about the body positive platform that can sometimes be confused, or at the very least, cause some grey areas. What if you want to love your body, but also lose weight?
Well. I actually believe you need to first love your body to begin attempting to make any significant change that will stick. I think that aspect is so important. I'm talking to the average woman who struggles with fluctuating weight. Being dissatisfied with how clothes fit, or not feeling your sexiest with your shirt off during sex, does not automatically equal an all encompassing self loathing toward your body. It's okay to want to be a better version of yourself in all aspects of life- and that includes your appearance. But it's okay NOT to change either. Because that means that you are owning how gorgeous and badass you are and THAAAAAT is what all women deserve to feel about themselves.
I'm not going to talk to you in circles about calories in/calories out... because that's not my jam. I'm going to talk to you about self love- because that is my jam.
Being an advocate for body positivity does not equal being an advocate for unhealthy lifestyle choices- and those things are pervasive in every single body type. If you are struggling with the concept of learning to love who you are, it's okay to still want to be better.
I'm not a good pregnant person if seen through the lens of someone who teaches health and wellness. I will be the first to admit I have used it as an excuse to over indulge- but you know what? That's. O. Kay. Forgiveness here has been SUCH a key element in navigating my emotions in gaining a butt ton of weight. A literal butt ton. ;)
After my first baby (10 years ago), I struggled to lose that weight. After a ton of fad diets and unused gym memberships, I finally solicited the help of a professional personal trainer. And after lots of hard (seriously hard) work, I lost the weight and spent my mid-20's feeling mostly comfortable in my skin. I'll go as far as to say that I was hot af.
So, here I am... baby #2. 10 years after my first pregnancy. And I know what I need to do. Last night I met with my new trainer, Warren Zukina, and chatted his ear off all night about my weight struggles. Huuuuuge thanks to Marybeth for sharing her experience with Warren with me and connecting me to his services!
And you know what was amazing? Like, mind-blowingly incredible? He talked to me about my EMOTIONS, my self image, my self worth. And I thought "holy shit. This is literally what I do in my job everyday for women as a boudoir photographer. But I can't tap into my own brain." It was like looking in a mirror. He was saying things to me that I so often talk to my clients about. And I knew immediately that it had to be him. That he was going to push me to meet my fitness goals, but also be there as a guide to talk me through all the transitions I'll experience during this journey. The victories, the losses, the stall outs.
You guys. This is huuuuuuge. I'm excited to get started. I'm ready to put in the work. I'm ready to be a better version of myself every single day.
Owning a business can be incredibly isolating. I have found my personal relationships have taken a huge hit over the last few years. I work all of the time. I even bailed on my own birthday dinner with my best girlfriends because the Christmas deadlines were approaching and I was slammed with client ordering appointments. I have left myself not being able to build a sustainable work/life balance that allows me to have deep, meaningful relationships. That includes with myself. I neglect my own needs as much as I have with the people I cherish most.
Don't get me wrong- I have a dream job. I love what I do with every bit of my soul, which is partly WHY I work so much. Because I love it. But I have got to love me too. I've got to make time for it. Because I'm worth it. Because my children are worth it.
So... getting healthy, feeling better about how I look naked, and showing myself self love is on my agenda these days.
I'll check in with you babes about it every once in a while if you care to know how it's going. And I'll try to open up more about me personally, because I know I can be a little absent with details about my life. Because I appreciate it SO much how open you babes are with me and our VIP group. I am so honored that you guys keep showing up, talking out how to honor your self worth and practice self care, and sharing such inspiring things about your lives. I am so blessed to be part of this community of incredible women we've built.
So, I guess to wrap it up... I'll just leave you with: There is no Ultimate Playbook for how to live your best life. It takes a lot of trial and error and a lot of forgiveness. Keep trying to attract positivity into your life. If you want to lose the 10 pounds- lose the damn 10 pounds. But promise me you won't place your self worth on a number on the scale. And promise me that you'll remember that your self worth has nothing to do with your outward appearances. If you never lose a single pound, you aren't any more or less beautiful than you are right in this moment. You are hot. Own that.
Every photo in this post? That's all me. Selfies and images of me shot by my friends. I can have love for this body, and still know that it needs to change to be a healthier version of me.
Thanks for reading. Please come back to the VIP group and let me know if this is something you've struggled with or anything you'd like to share on your body image and what things you'd like to work on.
XOXO
Rachel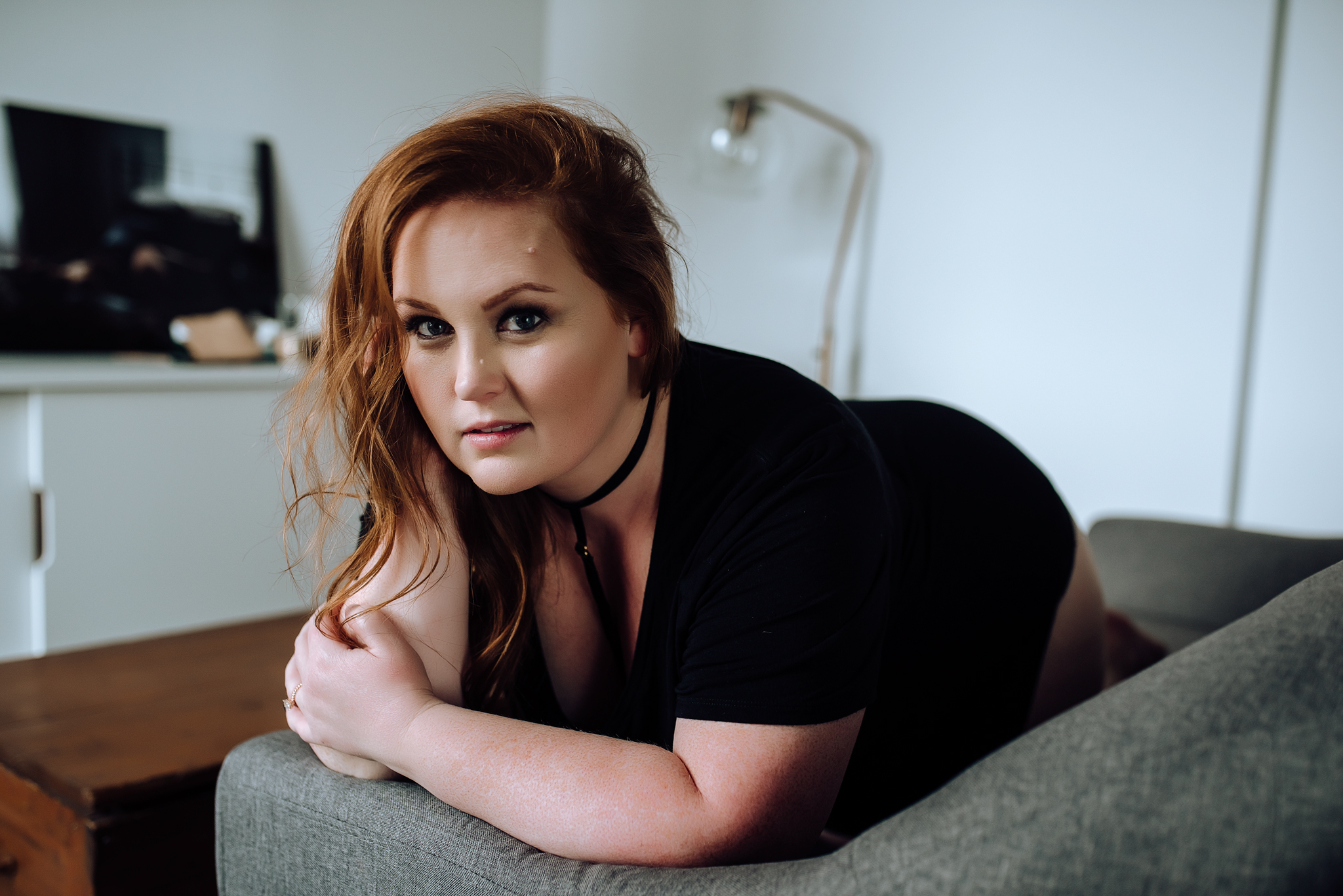 Are you ready to see the real you? Download the booking guide to learn about the boudoir experience.