Philly Boudoir: Erin
Erin is a 31 year old Talent Acquisition Manager. She has known Rachel since 4th grade which made her feel comfortable with scheduling a boudoir session with her. Especially after seeing how talented she was.
Erin enjoyed working with the team at RJS and appreciated the pre session information she was given.
Erin enjoyed her session and "Loved" her hair and makeup!
The session was exactly as Erin expected it to be. Her favorite part was "Just feeling comfortable in my own skin."
...Her least favorite part "the soreness of the aftermath haha".
During your boudoir session Rachel puts in many different poses. These poses have you using muscles you didn't even know you had. By the end of the session you have successfully completed a 2 hour workout routine!
Erin loved her session and was "Amazed" when she saw her photos! "I couldn't believe it was me, Rachel is beyond talented."
These photos are from Erin's second shoot with Rachel! As a returning customer she has also been sharing her experience with her friends.
Her advise for other women embarking on the journey " Don't let your fears stop you. Rachel has the perfect personality for this and her and Kylie will truly make you feel and look amazing."
As women we are often the hardest on ourselves regarding body image. A boudoir shoot with Rachel can help us see ourselves in someone else's eyes.
After her shoot Erin was able to see herself the way her husband does. "I was beyond skinny before having kids and has always been hard on myself since my first child was born. It showed me what my husband sees and to stop picking out every little detail. That's what makes me me!"
Erins final thoughts on the team at Rachel Jasmine Studio:
"They are fantastic! Rachel was made for this style of photography. Her passion shows through in the session and her FB group and everything that she is doing to empower women. All of it is amazing! Kylie also has a fantastic personality and makes a great first impression, especially for someone who is super nervous coming in for the first time."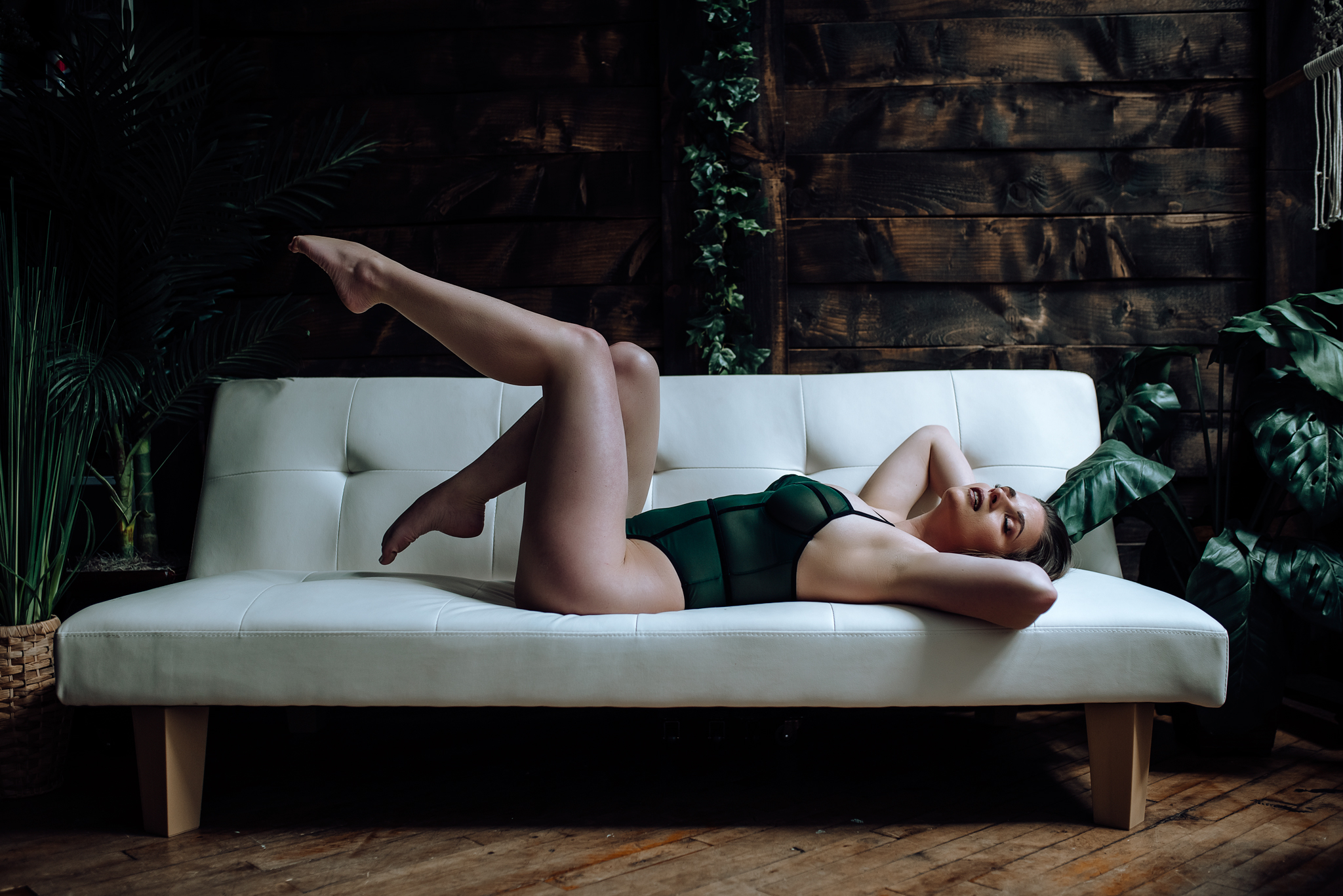 Learn about your own life changing boudoir experience and see the full menu of products and pricing
Rachel is a boudoir photographer living in the suburbs of Berks County with her fiancé and two boys. On weekends they love to visit the farms of Lancaster County for produce and flowers. Another shopping trip they love to make is into Lancaster City for the farmers market in downtown Lancaster. Iron Hill Brewery is their favorite restaurant to visit when in town. They love craft beer and good food. When they aren't traveling to nearby counties, they are catching the local entertainment of West Reading for live music, wine crawls, and community events. They also have a puppy who looks like Petey from The Little Rascals.
Kylie, our Hair & Makeup Artist, lives with her husband and two Australian Shepherds in Schuylkill County. When she isn't in the studio, you can find her touring the Lehigh Valley Wine Trail, as well as trying out the local breweries like Hijynx and Fegley's. An avid music fan, Kylie also enjoys attending Musikfest in Bethlehem each year. In her down time, she also likes to hike with her husband and pups, kayak, read, and do a little retail therapy at the Lehigh Valley Mall and the Promenade Shops in Saucon Valley.